Check out who's using LoopBack!
Core
Set up models and create REST APIs in minutes
Easy-to-use CLI wizard
Create models based on your schema if you have one
Create dynamic models if you don't
Built-in API Explorer
Model relation support
Define hasMany, belongsTo, hasAndBelongsToMany relationships
Automatically generates corresponding relational REST endpoints
Easy authentication and authorization setup
Built-in role-based access controls
oAuth user and registration models baked in
Add custom policies using CLI or JSON
Browser support (JSONP and CORS)
MIT Open-Source license
Dual Licensed: MIT open-source license or StrongLoop license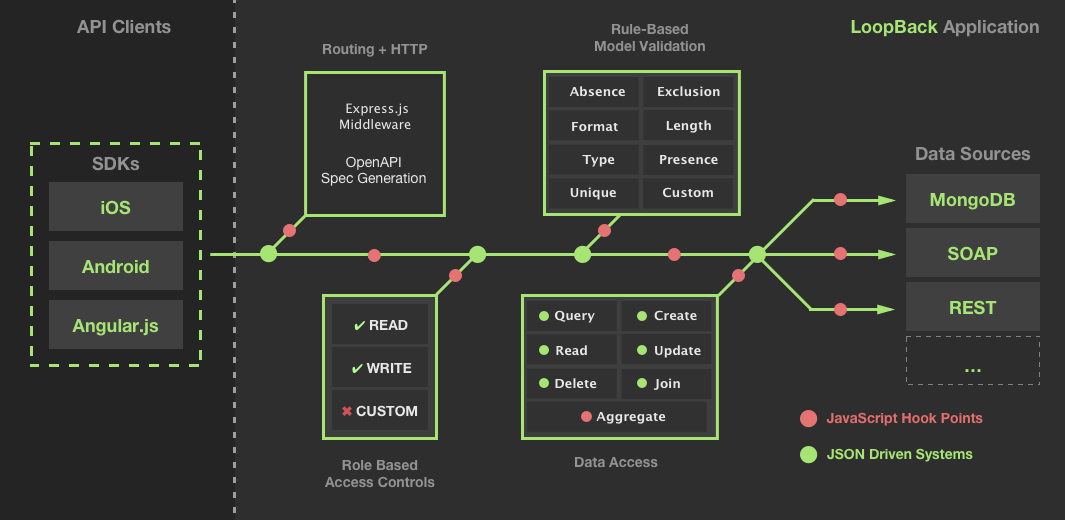 Juggler
Connect to backend data stores
MySQL, Oracle, MongoDB, Postgres and others
Other REST services
Discovery APIs for Oracle, MySQL, PostgreSQL and SQL Server
Run Ad-hoc queries
Run dynamic queries on devices, browsers and the server
Support for NoSQL-style queries against relational databases
Client SDKs
Native Mobile and Browser SDKs
Easily persist data with a database API on the client
Android / Java
iOS
Browser JavaScript (Angular)
Add-on components
Third party login
Use third party login providers like Facebook, Google, GitHub, etc.
Map inbound and outbound credentials to users
Storage service
Integrate with cloud storage providers
Organize data in containers and files
StrongLoop Arc
StrongLoop Arc is a graphical tool for building, deploying, managing, and monitoring LoopBack applications and APIs. It enables you to:
Create and modify LoopBack models and datasources.
Automatically create database schemas based on your application models.
Discover models based on relational database schemas.
Start, stop, and restart your LoopBack project app.
Explore and operate your REST APIs live, as you develop your model through a richer form-driven interface instead of JSON.
Generate and view application CPU profiles and heap snapshots (to help diagnose memory leaks).
Build, package, and deploy your Node application to a local or remote system.
Gather and view performance metrics on your application.
StrongLoop Arc and slc are no longer under active development, and will soon be deprecated. Arc's features are being included in the
IBM API Connect Developer Toolkit
. Please use it instead.